4th Avenue Gallery's New Year/ New Look
The artisans of the 4th Avenue Gallery hosted a New Year/New Look open house Friday evening for new homeowners or folks who want to redecorate and add a local touch with one-of-a-kind Pocahontas County creations. In addition to the wonderful arts and crafts, attendees enjoyed a supper of soup, bread and hot tea.
Perhaps the pièce de résistance of the gathering was the ice sculpture, left, made by Stonecraft artist and gallery manager Kevin Stitzinger.
L. D. Bennett photos
Stitzinger looks below the surface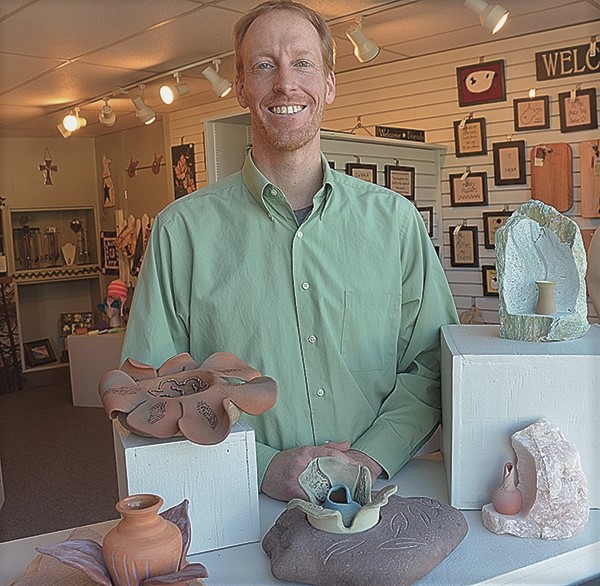 LOOKING FOR A one of a kind gift? Look no further than the 4th Avenue Gallery in Marlinton where you will find the stone artwork of Kevin Stitzinger. He serves as manager of the Pocahontas County Artisans Co-op and is the founder of Stitzinger Stonecraft.
Most people walk through the woods and give a cursory glance at rocks, or maybe give a thought or two to their shape or position. But others can look beyond the surface of a rock and see an artwork masterpiece waiting to be revealed... Read more
B. Nottingham photo
Brandon Nottingham
Staff Writer
Augusta Heritage Center Refocuses on Arts, Crafts
The Augusta Heritage Center is known around the world for its many music workshops and jam sessions. But Augusta actually started as a way to keep traditional arts and crafts alive in Randolph County.
"Well, it's gonna be a rabbit in the end," Dorothy Steinbrueck said as she was chiseling away on a piece of alabaster stone under a hillside pavilion on the Davis & Elkins College campus earlier this week. She was surrounded by rock chips as she concentrated on the task at hand...
CREDIT JESSE WRIGHT / WEST VIRGINIA PUBLIC BROADCASTING
Read or listen to the full story (4:41 min)
Sculptor captures essence of Cass Scenic Railroad
Some would call it serendipity. Others would call it coincidence. But when Cass Scenic Railroad park superintendent Scott Fortney saw rock sculptor Kevin Stitzinger demonstrating at the Leatherbark Ford Gallery at Cass, he knew he had found the right person to create a work of art for the entrance to the Cass Company Store.
"Scott came by and was really excited about what I was doing, and asked me if I'd be interested in doing something larger," Stitzinger said. "I said absolutely. He wanted something that conveyed the essence of the place, ideally using local rock and local artists."
Stitzinger went to the drawing board and came back with a sketch for Fortney's approval.
"I wanted something that spoke to the place as a place where trains come to life," Stitzinger said. "It's an active, dynamic rail line, so I didn't want to do just a sign. Scott's other stipulation was he didn't really want something really crisp with a lot of right angles and stuff, just to meet the character of the rest of the place. That works really well for hand carving. I love that..." Read more
S. Stewart photo
Suzanne Stewart
Staff Writer